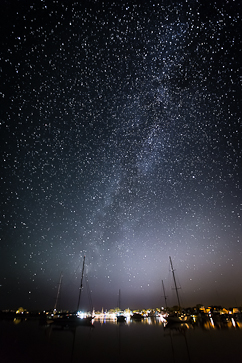 I've always loved how light interacts with darkness, particularly within the night sky. When I was 8 years old I began taking pictures, and as I grew into a young adult I found myself transitioning to shooting during lower light times of the day. The basis of my work, which focuses on our connections to the balance between light & darkness, originates from my experiences as a child practicing martial arts, where our talisman was the Yin Yang, a symbol of harmony through a balance between the two opposing colors black & white, or darkness & light.
I'm drawn to waterscapes, landscapes, and celestial bodies, with my photographs mostly devoid of people within the frame, because of the symbolism it represents of a primal recognition of our connection to this planet that we live on, who we are in relation to this planet, and where we are, and our planet is, within the enormity of the universe.
Often times I find there is a lot directly around us that we can't initially see which can be brought out through a balancing of darkness and light. There's a whole other amazing world and life happening all around us which we're directly connected to, the light within darkness, it just takes a little adjustment of focus, and this is what I hope to express in my work.